We accompany your business integrally
Sustainability, environment, occupational security and health
Services and solutions
Integral advice to industrial establishments, services, constructions and businesses. Efficient and suitable solutions to your needs.
Comprehensive audits of compliance with applicable legal requirements in the environment, industrial settlement, safety, occupational hygiene and health.
Preparation and maintenance of matrices of legal environmental requirements, safety and hygiene, transport, quality.
Legislative update online with the largest database in the country.
Technical and legal assistance in environmental administrative and criminal matters.
Environmental and health and safety and occupational health due diligence.
Training for middle managers and directors in environmental legal matters.
Procedures and registrations in public and private, municipal, provintial and national organizations.
Implementation of systems management and advice by experts. ISO 9001, 14001 45001 standards and others.
Environment Effect investigation.
Environmental audits. Environmental management plans.
Industrial categorizations.
Operator registrations / generators of special and hazardous waste.
Gas emissions permit. Atmospheric impact studies.
Water pre-feasibilities.
Liquid effluent permits.
Permits use of surface and underground water.
Hydraulic skills.
Authorization of industrial parks.
Authorizations and procedures in municipal, provincial and national bodies. Public and private.
Municipal plans (civil, electromechanical, fire, sanitary).
Plot projects.
Real estate revaluations.
Engineering and projects in treatment systems for industrial and sewage liquid effluents.
Engineering and water supply projects.
Engineering and projects in gaseous emission treatment systems.
Engineering and projects in fire protection systems.
Engineering and renewable energy projects.
Advice and calculations water and carbon footprint. Trainings. plans.
Management plans and optimization of water resources and energy.
Engineering and clean energy projects in industries.
PHASE I studies according to ASTM standards.
PHASE II studies according to ASTM standards.
Soil and water remediation projects according to current international and local standards.
Environmental Assistant.
CDKOT virtual classroom for training.
Integrated environmental management software.
AERMOD for modeling of gaseous effluents.
Development of specific modeling of bodies of water, behavior of aquifers, among others.
Development of mathematical models.
Integral consulting and advisory service on safety, hygiene and occupational health.
Identification of hazards and Risks evaluation.
Process risk analysis, HAZOP, What if? FMEA, LOPA.
Risk prevention and management programs.
Training and qualification.
Fire load and anti-loss studies
Studies of classified areas.
Self-protection systems.
Integrated ergonomics programs.
Occupational health and hygiene program.
Inspections of equipment and lifting elements.
Technical and legal assistance.
Sampling service by qualified professionals and technicians and analysis of the following resources:
Soils
Underground aquifers and/or superficial.
Gaseous effluents.
Air quality.
Liquid effluents.
Solid and semi-solid waste.
Chemical contaminants in the work environment.
Noise maps and personal dosimetry.
Lightning.
Grounding and electrical continuity.
Thermal load.
Vibrations.
Industrial ventilation.
Technical reports including comparison with local and/or international standards
Enabling equipment.
Extension of useful life.
Periodic tests.
Hydraulic tests.
Thickness measurement.
Qualification of boilermakers.
Calibration of safety valves.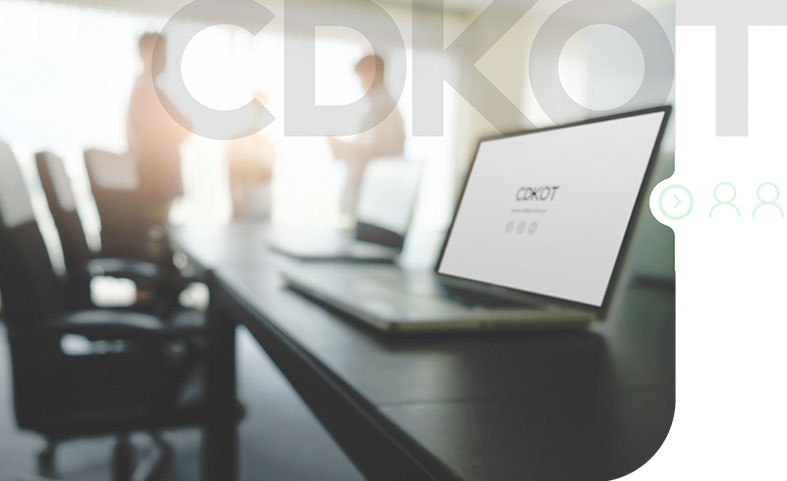 Our team
We have a large professional team with extensive experience, dedicated to integral advice (technical and legal).
More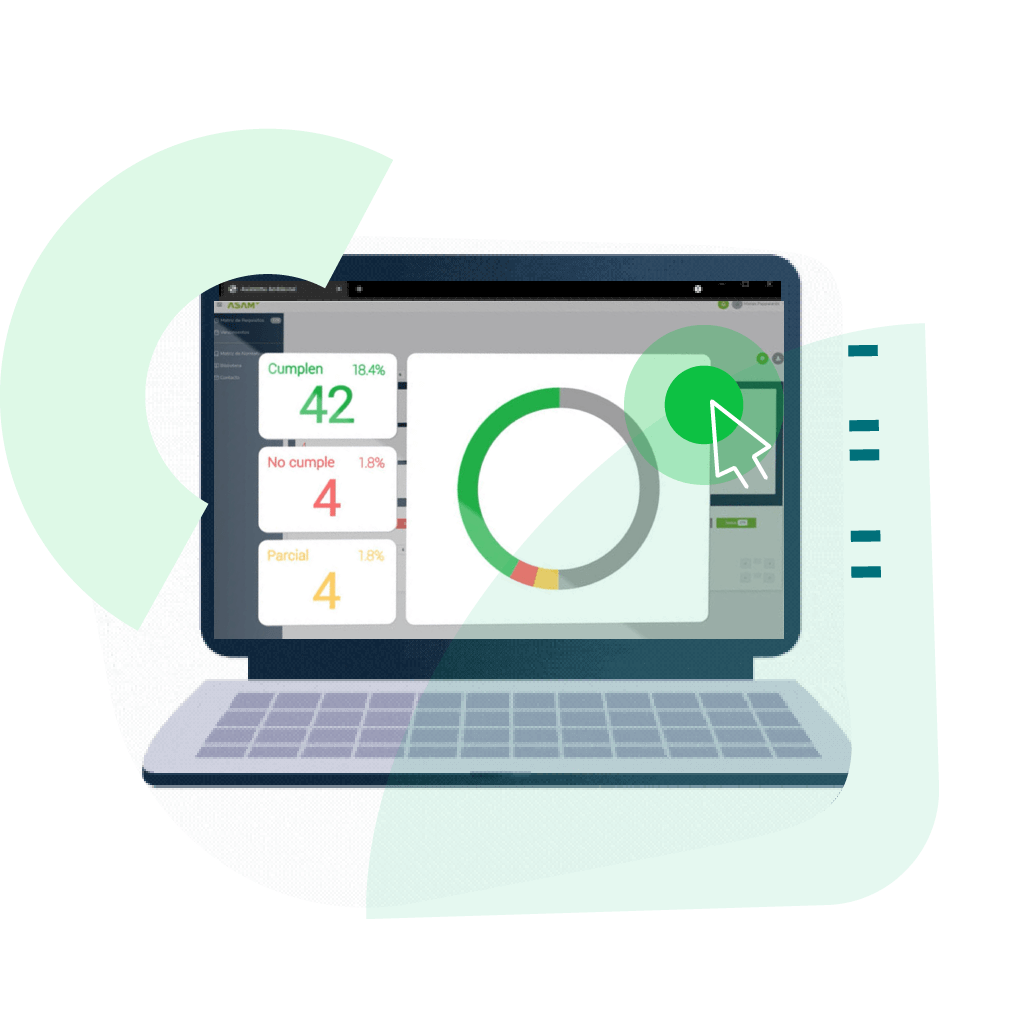 Platforms
They integrate the different legislations processing data and providing valuable information for your company.
International consulting
Our services available in different countries.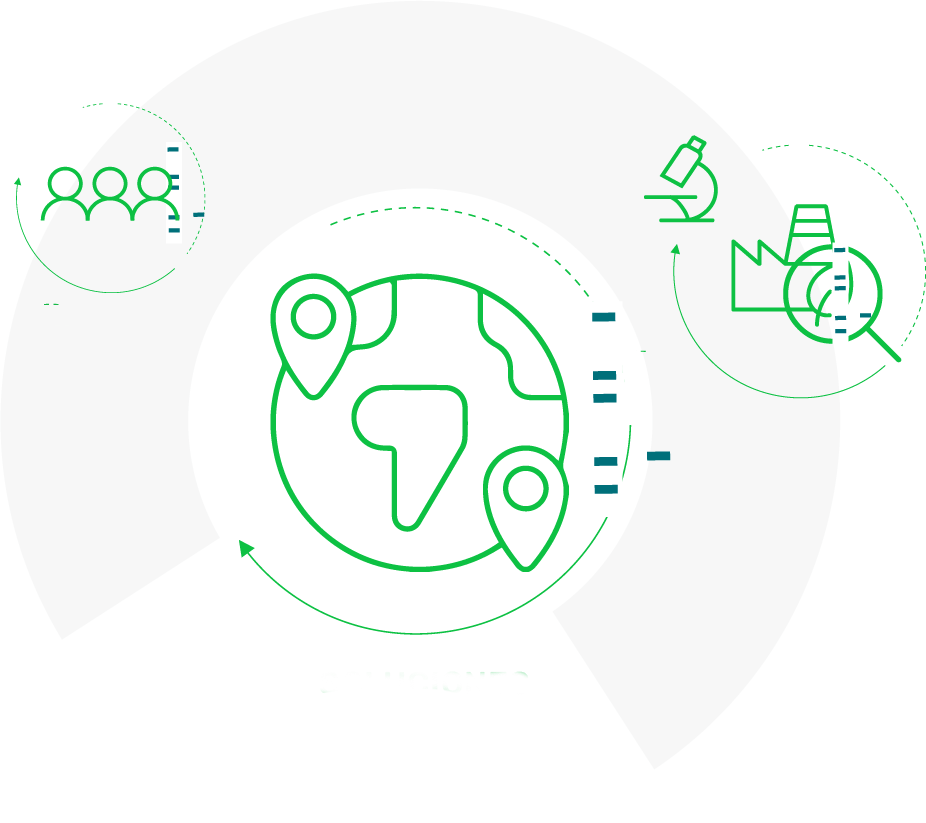 Customers
Those who know us, recommend us, choose us for our capacity and resolution agility